Today we're talking about all the New Upcoming Movies that Netflix will be adding in November 2022. So in a highly unusual move on Netflix's part, they're going for quantity this month and quality in my experience. They tend to do one or the other but this month is packed with a ton of new stuff.
In this article, we'll be talking about over 25 movies over 10 series as well as a couple of specials that Release On Netflix This November 2022.
Netflix Movies Releasing On November 1st, 2022
First I want to tell you about everything they're going to be adding on November 1st now this is where they add all the stuff that you're likely familiar with so we're going to blow through this pretty quickly because there's so much getting added this month.
1. The Bad Guys
And speaking of new movies they're adding the bad guys this was just recently out in theaters it's obviously a family movie but it is pretty funny Sam Rockwell is the lead voice in this and my kids absolutely loved it and it's got a little bit of a vintage style which I liked and appreciated as well.
2. Man on a Ledge
Man on a Ledge is a pretty decent Thriller from 2012 starring Sam Worthington he's a man standing out on a Ledge as the police are trying to talk him down but the reasons why he's doing that are not what you might think there is a lot else going on in this movie it's a little bit run-of-the-mill but it is a decent popcorn movie.
3. Mile 22
And I could say something similar from mile 22 with Mark Wahlberg this has got some good action in it I just felt like the story overall was pretty thin but if you just want to watch a prolonged shootout mile 22 is the one for you.
4. Moneyball
They're also going to be adding Moneyball which I think is a highly underrated movie, yes I know it was an award-winning movie but still, this is a solid flick even if you have zero interest in baseball there's plenty to love with this movie.
5. Oblivion
I'll also say that Oblivion with Tom Cruise is highly re-watchable much more so than I would have felt the first time I saw it I think it was maybe a little bit overshadowed by his other sci-fi movie The Edge of Tomorrow which came out basically around the same time.
Yet Oblivion is still a really interesting PG-13 watch Julianne Moore won an Academy Award for her portrayal in Still Alice in this movie she plays a woman who's going through the early stages of dementia apparently she does a killer job this movie I've yet to see it but I'll be checking it out this month.
6. Up in the Air
And then up in the air is a really good George Clooney movie this is from director Jason Reitman who also did Juno and thank you for smoking but I happen to think Up in the Air is maybe his best movie.
7. Dolphin Tale
Dolphin Tale is a really great family movie about a dolphin with an injury they actually made two of these but the first one gets added on the first.
8. Key & Peele
Ain't got on me it's worth mentioning they're adding three seasons of Key & Peele on the first as well which is not my favorite sketch comedy show but it's certainly comedy Central's best effort to replace Chappelle's Show.
Big Netflix Web Series And Movies Release On 2nd November
We're going to go through the rest of November in chronological order starting with November 2nd where they add.
9. Killer Sally
This is a true crime docu-series on Sally McNeil who was a bodybuilder who killed her bodybuilder husband.
10. The Last Blockbuster
Netflix is releasing a comedy show about the last Blockbuster now there's a documentary that's actually about the last Blockbuster but this is kind of a sitcom that takes place in the last Blockbuster in existence and it should be really funny.
This is from the same creators as Brooklyn nine and Superstore so it's got a lot going for it and I could use a good 30-minute comedy to watch at night I have tons of memories of the days of Blockbuster and hopefully, Netflix doesn't blow it with this one.
11. Enola Holmes 2
Enola Holmes 2 gets added on the fourth the first one is a Netflix original available to watch this is not really one I recommend for adults but for adolescent girls, this is just kind of a home run of a movie.
November 6th Movies
12. Captain Phillips
November 6th they're also going to be adding Captain Phillips which still holds up today this is directed by Paul Greengrass and I do consider it to be one of his best films he's done some bangers and for that matter, it's one of Tom's hanks' best performances
November 8th Netflix Releases
13. Despicable Me 2
November 8th they're adding minions and more volume two there's currently volume 1 available on Netflix if you haven't watched it with your kids yet it's about an hour and it's just a bunch of shorts most of them including the minions but some other fan favorites like the Grand and other illumination characters.
Web Series On November 9th
14. Inferno
On the 9th of November, they add Angels and Demons the sequel to The Da Vinci Code I remember rather liking this one even though it does get a bit wild and over the top, it was still a pretty decent mystery moving.
15. FIFA Uncovered
FIFA uncovered is a new limited docu-series about the corruption inside the world of football if you don't follow football or soccer as we call it here in the U.S you may have heard Rumblings of this but apparently, the FIFA organization was wildly corrupt so even if you're not a fan of football this could make a really interesting watch.
16. The Crown Season 5
Still, on the ninth, they're adding the crown season five if you've been following this series so far this particular season appears to focus a lot on Princess Diana and some of the ways she was shaking things up before she died I'm not quite sure if this season is going to lead all the way up to her death.
17. The RailwayMan
Lastly, I'm only adding The Railway Man which starts with Colin Firth and Nicole Kidman I remember being interested in this one but I've never seen it so I'll likely be checking it out in November.
Movies On November 10th, 2022
18. Lost Bullet 2
On the 10th they're adding one I've been highly anticipating Lost Bullet 2 the First lost bullet is a French action film that does have a decent dubbed version on Netflix in fact it's a Netflix original.
I have raved about this movie in the past I highly recommend checking out lost bullet if you haven't seen it yet I will say though the trailer for lost bullet 2 looks a little lame it looks like they embraced some silly ideas I hope that I'm wrong but at the very least lost bullet 2 should be packed with plenty of real stunts which is what I loved so much about the first one.
Netflix Web Series On November 11th
19. Ancient Apocalypse
On the 11th they added an incredibly interesting docu-series called ancient apocalypse this is actually presented by Graham Hancock and looks into the potential of lost civilizations he is someone I have heard on podcasts over the years so I'm interested to see him in this sort of setting with a little more production and visual aids.
20. Capturing the Killer Nurse
Another docu-series they're adding on the 11th is called capturing the killer nurse this is a docu-series based on the same story as the good nurse which just released last month it stars Jessica Chastain and Eddie Redmayne if you liked that movie I'm sure the docu-series is going to be a must watch for you.
21. Fun Fun
It's a little late for Halloween but they are adding Goosebumps which is a Fun Fun movie to watch with the kids it can be a little scary if you have very young kids but Jack Black is particularly good in this movie and so are a lot of the characters and effects don't get me wrong they don't look convincing but they're fun to watch again with slightly older kids.
22. My Father's Dragon
And then another big get for Netflix this month is my father's dragon this is an animated movie obviously for the family but this is from the same creators as The Secret of Kells wolf Walkers and the breadwinner three award-winning animated movies that have a beautiful style.
Also, a really kind of folksy Storytelling style that's not like anything else it doesn't feel like Pixar or anything they're all beautiful movies hopefully this new Dragon movie is equally as good.
November 15th Netflix Releases
On 15th November Deon Cole returns for a new stand-up special I like this last one I loved him when he was on Conan I'll be checking this one out.
23. R.I.P.D. 2: Rise of the Damned
One I might actually check out just for a good laugh is RIPD two you may remember the first one actually starred Ryan Reynolds and Jeff Bridges.
This one has no one famous in it it takes place in the old west it looks like it was done for almost no money I really don't anticipate there to be much value in this at all but you know I mean I'll probably preview it and if it's silly it could get recommended in the future.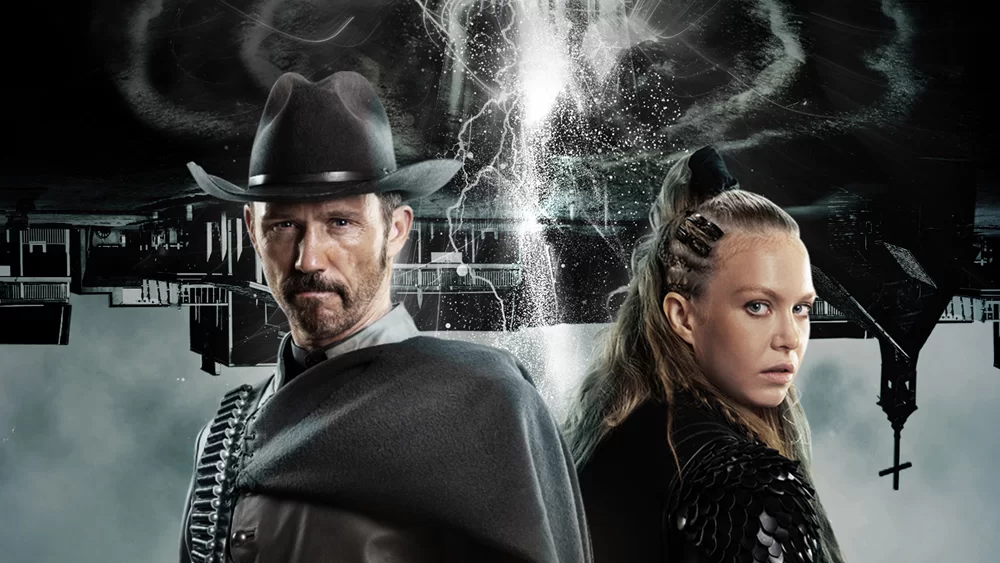 On November 16th Netflix Films
24. The Wonder
And then the 16th adds another interesting film that is a big get for Netflix this month it's called The Wonder and it stars Florence Pugh who is one of the hottest stars in Hollywood right now.
I'm honestly surprised that this is a Netflix original and what's even more interesting is she's actually observing a young girl who is claimed to not eat for months on end so there's a bit of a supernatural slant and the trailer really looks, like Dynamite.
Most Anticipated Web Series OF Netflix On November 17th
25. 1899
But speaking of dynamite my most anticipated project for the entire month and it's a month again filled with bangers is 1899 this is a new series that gets added on the 17th.
And it's from the creators of dark one of the most interesting Twisted mind-bending shows I've ever seen this not only takes place in 1899.
But looks like it's got some Bermuda Triangle stuff going on if it's anything like dark all of the twists and turns are incredibly clever but also highly unusual and feel like something that could almost really happen.
I cannot wait to sink my teeth into this one it is a foreign language but the trailer is dubbed really well and I anticipate this series to have a really good dubbed version too if you don't do well with subtitles.
On November 18th Netflix Movies
26. Slumberland
On the 18th they add a fantastic-looking Jason Momoa project in fact this looks like the most exciting thing he's done since Aquaman it's called Slumberland.
Now obviously this is another one for the family but it looks absolutely dazzling and if you're gonna watch it with the kids I highly recommend getting the wife to watch too because it looks like Momoa's got a little bit of a gut in this one.
27. The Cuphead Show Season 3
The CupHead show comes back for season three I feel like season two just got added a couple of months ago but this is a really cool vintage cartoon that is great for older kids because there's the devil and some weird things in it.
But even if you don't have kids this could be a cool watch just because of the Vintage Vibe it's done so well and looks so unique.
Netflix Movies Releasing On November 23rd
28. Wednesday
On November 23rd please excuse Wednesday this is about Wednesday from The Addams Family and even though most of the Adams Family is represented here the series does focus on her and it's produced by Tim Burton.
While it does look a little bit like Tim burton this is actually from the creators of Smallville so I would expect it to feel a little bit more like their brand of retooling a beloved property.
So then it'll feel like a Tim Burton movie and I think Jenna Ortega is perfectly cast as Wednesday she's been great in everything I've seen her in so she's probably gonna kill it.
But you've also got Louise Guzman playing Gomez and Catherine Zeta-Jones playing Morticia but don't expect to see a ton of them again this focuses on Wednesday but it is worth noting that Christina Ricci does have a role in this show which should make things even more interesting.
29. The Boxtrolls
Now another one for the family that you can honestly watch by yourself as an adult is The Boxtrolls this is from the creators of Kubo and the two strings Coraline and ParaNorman so the stop motion animation style here is absolutely stunning
30. Southpaw
Southpaw is a really great movie about a boxer starring Jay Gyllenhaal they're going to be adding that on the 24th highly recommend that if you haven't seen it
November 25th Releases
31. Filthy Rich
On the 25th they add Filthy Rich a docu-series about just Lane Maxwell the Netflix documentary on Epstein was I thought horrible it really bent over backward to make it seem like he was the only person at fault which is insane and I don't have a whole lot of faith that this one's going to be that well put together either.
Last But Not Least On November 30th
32. Snack vs. Chef
On the 30th they're adding a new cooking reality show called Snack vs. Chef which actually looks pretty interesting where they take classic snacks chefs had to figure out.
how to cook them and then how to make an improved version I've been Tapped Out on cooking shows for a while and this one has enough unique elements that it might get me to watch if it's well produced now.
Conclusion
Here is everything leaving in the month of November but the date listed is not the last day you can watch it. it's already gone on that date so make sure to watch them before the date listed.